William Abdullah in the Netherlands
PS4L delegate William Abdallah joined the Stitching UcDean Organization on their good cause of spreading on awareness the importance of voluntary work, and the huge role it plays towards a positive change and doing good without a return. Through his journey, he learned, networked, developed his skills, and came back with the ambitions to teach what he learned and also with the ambition to work and help without the waiting on any return. We are happy to share his story for it is the best way to deliver a message, a feeling, and a conclusion. This is the story of William in the Netherlands.
"We were hosted by a Dutch organization its name is East-packers | Stitching UcDean Organization and it was founded in Utrecht city in the Netherlands in 2007 and this organization focuses on the EVS volunteering work which we had a training about under the name of east-west dialogues and it was held between the 7th and 10th of March 2019. It was a good experience for me since we had met with 24 different representatives from many different countries like Spain, Ukraine, Portugal, Kosovo, Germany, Armenia, Poland, Finland, Slovakia, Greece, Italy, Norway, Armenia, France, Bosnia, and the Netherlands, different organizations which have the accreditation for the EVS volunteering work programs over Erasmus+. The training governs different workshops that focused on defining what is the EVS/ESC voluntary work and how to participate as an organization in it by hosting, sending or coordinating programs, it contained also general knowledge about Erasmus+ and what are the main areas of interests that the programs should focus on to have the opportunity to take part in enhancing the communities and solve social issues over Erasmus+ funded projects. On the first day each participant presented his organization in his own way, we knew what's each organization's main interests and how it deals with issues and what kind of participants and volunteers it needs, and we had many exercises on how each organization deal with its specifics separately, whether it is a sending, hosting or coordinating. We shared an experience on how to write an online application to find the right volunteers for our proposed and designed programs, the workshops contained two volunteering experiences presentations held by two participants whom have volunteered in different countries as they talked about the difficulties that they faced during their EVS work and how they dealt with it, and also to whom they went to in order to solve their problems. We had a discussion about the role of the mentor and what is the difference between the mentor and the tutor in the EVS programs and we ended up with that each volunteer should have his mentor who is like the high supervision on him and his tutor who is the direct responsible on the volunteer for any problem or help needed to be cared of in his daily life during his volunteering period, and a third person who is the individual who will contact with the volunteer to guide him to his first volunteering day. During the training, I made a big poster contains Sports For Life main objectives and some sports drawings and shared with everyone a brief talk about sports for development and how we use sports as a tool to deal with different social problems. A part of the training was fun like knowing more about each other, playing games, visiting Amsterdam and visiting the German-born Jewish diarist Anne Frank house. But the other part was consisting of good conversations, though sometimes during the workshops, discussing different cases that happened or may happen during hosting, sending or coordinating programs in our organizations. It was a really good experience and I would recommend such training for people who work with EVS and solidarity corps volunteering services. Personally, am so ambitious and would love to work and be a part of such good social development programs". (Abdallah)
We are happy to see and share the good energy that such programs bring to our trainers and volunteers. William is committed and eager to spread his thoughts and also invest more in voluntary works as it is the main key to a good change and development. Such projects are a great asset as it brings back to the youth of Palestine, and encourages them to take part in such good, and honest roles as it is a foundation of a better future. We want to wish William all the good luck with his ambitions, and we want to also thank all the involved parties on their good role.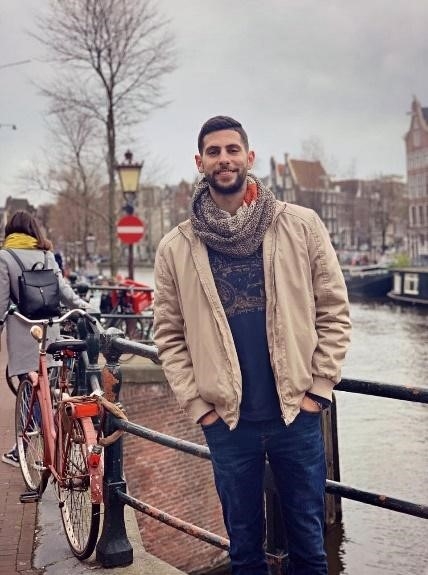 Date