The Hope project in Partnership with Generation Amazing, Qatar Charity, and Qatar fund for Development in collaboration with the Ministry of Education has been making significant progress in its mission to create positive change and opportunities for children in Gaza and the West Bank. As of now, the project has successfully completed two cycles, with the third cycle scheduled to start in October. Let's break down the accomplishments of each cycle:
Cycle 1: This cycle has been successfully completed, achieving its objectives and making a positive impact on the target communities. 
The creation of safe spaces and after-school activities for 1000 children across Gaza is an essential component of this effort. These safe spaces provide a supportive environment for children to engage in sports and other activities that promote their physical and emotional well-being. Additionally, they offer a sense of security and a break from the challenges that many children in Gaza face on a daily basis.
Involving the training of twenty coaches in the approaches of Sports for Development and safeguarding, marks a significant step towards creating positive change in the community. This initiative not only empowers coaches with the skills and knowledge needed to make a meaningful impact but also focuses on the well-being and protection of the children involved.
Student Mohammad Ashraf shared that this program has provided him with a variety of new skills and insights into effective teamwork. He highlighted that the program also instilled in him the true essence of sportsmanship and the importance of showing respect to others. He further quoted, "We would have never envisioned such a program being introduced in our schools, and of course, credit goes to Coach Raed for guiding us.
Link to Womens Festival: 
https://youtu.be/I42KKM96pL4?feature=shared
 Link to ToT video:
https://youtu.be/P2lnVZlsFC8?feature=shared
Cycle 2: This cycle has completed an in-person Training of Trainers (ToT) program. As a result, the project has trained a total of 10 teachers in Gaza and 20 teachers in the West Bank. These trained teachers are now equipped with the necessary skills and knowledge to implement after-school programs in their respective schools. These programs serve as safe spaces for children, where they can not only play but also learn essential life skills. 
The after-school programs play a crucial role in providing children with a secure and supportive environment where they can grow, learn, and develop important life skills. This initiative is a commendable effort to enhance the well-being and future prospects of children in Gaza and the West Bank.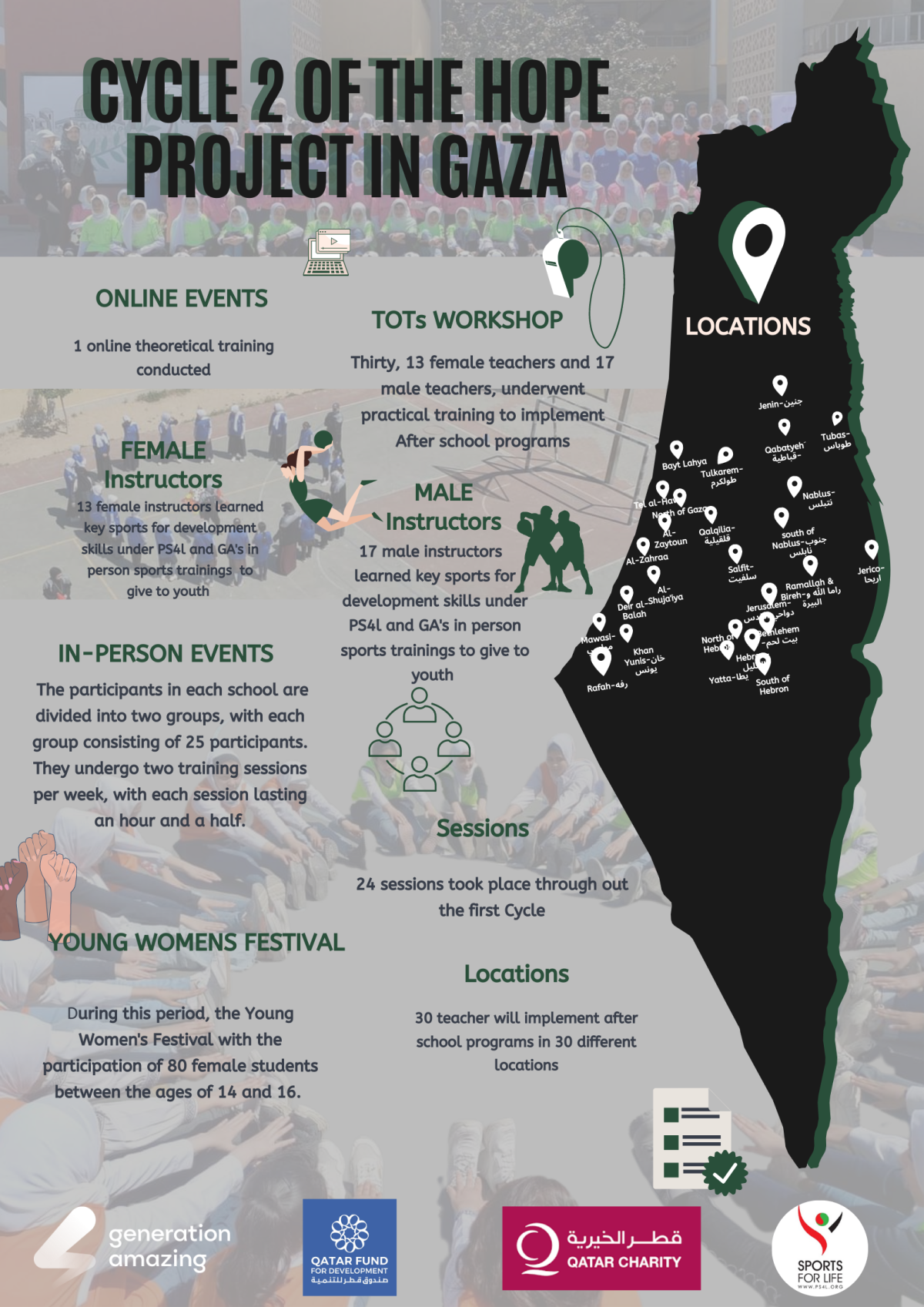 Link to ToT: https://youtu.be/Pd-mMwLsGaU?feature=shared
Glimpse into A training: https://youtu.be/r4ilaX4DsKk?feature=shared
Success Stories:
I am Israa, I participated in the Football for Development project, which was implemented at my school, Al-Safwa Common Elementary School.
Allow me to introduce myself a little. I am a strong-willed girl and sometimes very harsh. I don't care about others' feelings, and I always speak my mind without any concern for how they might feel. However, through my participation in the program sessions and attending all the sessions, I started to develop an understanding of positive communication and interaction, as well as respecting the feelings and circumstances of others. 
It's possible with a single word, to change the course of the team as a whole.For example, when we were divided into groups to play the match, the impact and motivation of the team leader is very important and has a positive effect if the leader is positive and motivating, and the opposite if they are critical and aggressive. . All of this, along with important life skills, contributed to touching the dark part that was within me and opened up a new path, all based on respect for others. Now, I always put myself in the other's shoes and carefully choose my words to avoid hurting others. 
✔ The coach spoke, saying that at the beginning of the sessions, "Israa was rebellious and resistant to commands, even though I was only giving her tasks for the success of the sessions. She was a little tempered, often accepting criticism but through encouragement and attention to her presence in the sessions, Israa integrated with the girls. Israa eventually integrated with the other girls and became more interactive, and her happiness was evident during the practice. I remember one day she told me, "I hope the session continues all day." I felt happy with her words, which contributed to a change in Israa.This change was reflected in her commitment during the sessions and her respect for her fellow participants, both during the sessions and during discussions.
We are the students Ahmad and Mohammad, born in the Arab Republic of Egypt, to a Palestinian father and an Egyptian mother. We lived and were raised in Egypt. We left Egypt during the summer break and returned to Gaza with our father. We knew nothing about Gaza, its customs, traditions, or the accent of its people. We faced some difficulties in dealing with the neighbors' children due to the Egyptian dialect we were accustomed to. The children used to mock us, and we felt isolated from the community.
.
One day, while sitting in front of the house next to Asdod School, the physical education teacher approached us and told us about a training program at the school. He asked if we'd like to join, and we agreed. We integrated with the students and felt a significant change in our interaction with them. There was mutual respect, freedom of expression, and acceptance among the students. We quickly adapted and made friends with whom we played and discussed various topics during the training. We felt a sense of closeness and integration, and all the students participated in the training without discrimination.
In reality, we felt like we were born again in my father's homeland through engaging in sports activities with the students.
The trainer later said that at first, the students Ahmad and Mohammad experienced bullying from others due to the difference in dialect and the lack of awareness among the students. This was a difficult experience for them, and they wanted to withdraw from the sessions at the beginning. However, by focusing on sessions that emphasized mutual respect and non-discrimination in play, the situation became easier. The two students gradually integrated into the activities and felt like they were in their second home. This helped them develop teamwork skills, the ability to express themselves, and respect for others.
Cycle 3: As of October, our humanitarian efforts have taken a new direction due to the prevailing situation in Gaza. Instead of implementing plans in the West Bank, we have shifted our focus to providing social skills and psychosocial support sessions. Led by Mohammad Abed and supported by five other dedicated coaches, our team is committed to visiting one school per day out of the 10 schools in the Rafah area.
Each of these schools hosts just under 1000 displaced children and families. Our initiatives aim to offer therapeutic activities, educational support, and access to professional mental health services. Through a combination of sports, play, and counseling, we empower these children to rediscover their strength, resilience, and the essence of a normal childhood, even in the face of adversity.
Our daily sessions on social skills and psychosocial support are designed to address the unique needs of children who have been forced to leave their homes and are now seeking refuge in schools. Every child has an inherent right to life and happiness, and it is our responsibility to ensure that these children receive the necessary assistance to help them maintain their mental health and overall well-being. We believe in providing a supportive environment that allows these young individuals to thrive and overcome the challenges they face.